Immunity Booster Pack

Strengthen Your Body's Natural Defenses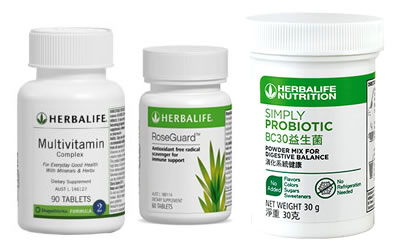 These 3 Herbalife products may assist with 3 different aspects of your immune system. The details of each product are outlined below.
Pack Components
Probiotic Complex (30 capsules)


A healthy microbiome is the first line of defence against pathogens. A good population of healthy bacteria is essential for good gut health. Probiotic Complex provides 4 billion probiotic organisms per capsule.

RoseGuard Antioxidant (60 tablets)


Rosemary is a rich source of antioxidants and anti-inflammatory compounds, which help boost the immune system and improve blood circulation. It's action is assisted with turmeric extract and astragalus root.

Multivitamin Complex (90 tablets)


Being deficient in one or more vitamins and minerals can have a detrimental effect on the immune system. Cheap, synthetic, chemist store vitamins won't necessarily rectify this shortfall. Multivitamin Complex is a premium quality combination of essential vitamins and minerals along with the addition of healthy botanicals such as ginger rhizome powder, rosehip powder and garlic bulb powder.