Herbal Tea Concentrate

New Honey & Ginger Flavour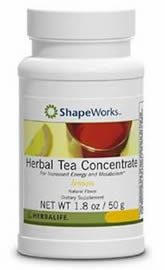 Delicious instant tea with the antioxidant and thermogenic benefits of green tea and fast-acting botanicals for energy and weight-management support. A refreshing tea hot or cold, Herbal Concentrate helps you stay energised while you manage your weight. A great alternative to soda or coffee, Herbal Concentrate comes in two delicious flavors: original and peach.
Herbal Tea Concentrate Key Benefits
Get an energy boost
Enjoy the benefits of green tea
Manage your weight
Low in calories and carbohydrates
Herbal Tea Concentrate Product Usage
Mix 1/2 teaspoon (more or less as desired) of Herbal Tea Concentrate with 1 cup hot or cold water and enjoy.