LiftOff™ Energy Drink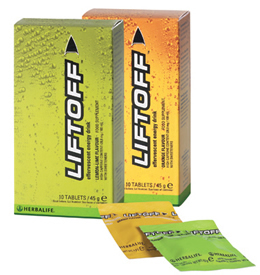 Increase energy and improve mental clarity for better performance throughout the day with this effervescent energy drink.
Liftoff is an exclusive blend of L-taurine, guarana, caffeine, Panax ginseng and Ginkgo biloba clinically proven to enhance mental performance and boost energy. Convenient, pocket-size tablet provides a mind-body boost anytime, anywhere.
Key Product Benefits
0 sugar, 0 calories, 1 carb
Stay alert and focused
Improve short-term memory
Individually packaged tablets for on-the-go lifestyles
Product Usage
Just empty one sachet in 1 cup of cool water and let dissolve. Enjoy 1-2 servings per day.