NiteWorks ® Powder Mix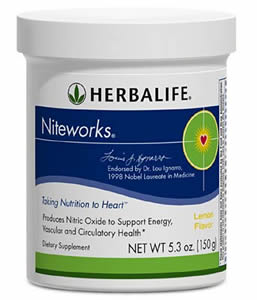 Lemon-flavor mix helps with Nitric Oxide (NO) production at night when NO levels are lowest and supports energy, circulatory and vascular health. Developed with Nobel Laureate in Medicine Dr. Lou Ignarro, Niteworks ® helps your body produce Nitric Oxide (NO), for improved circulatory, immune and nervous system functions. L-arginine and l-citrulline trigger cells to produce and recycle more NO.
Key Product Benefits
Nitric Oxide production supports healthy blood pressure levels already within a normal range and blood vessel elasticity.
Keep blood vessels toned, flexible and youthful for improved circulation
Amino acids L-arginine and L-citrulline support Nitric Oxide production and blood flow for the healthy function of the heart, brain and other organs.
Product Usage
Two scoops (two teaspoons or about 10 grams) in a glass of cold water. May be mixed with sparkling water or juice. Drink at night or before bedtime.