Herbalife24 Rebuild Strength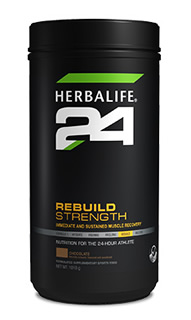 Rebuild Strength is a sustained muscle building shake that delivers whey and casein protein to help rebuild fatigued muscle over a multi-hour period. Rebuild Strength's carbohydrate blend helps enhance muscle-recovery by supporting the delivery of amino acids for muscle synthesis.
Key Product Benefits
Sustained Amino Acid Delivery
Rebuild Lean Muscle
Product Usage
Gently shake the canister prior to each use. Mix 2 scoops (50.5g) of Rebuild Strength with 280ml of water or liquid of your choice. Shake vigorously. Consume one shake per day within 30 minutes following physical activity.