Active Fibre Complex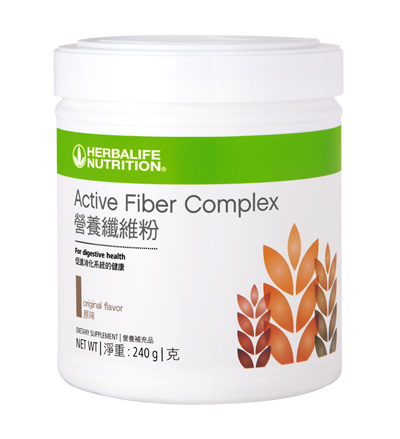 Herbalife's Active Fibre Complex is an excellent source of soluble and insoluble dietary fibre. It has a pleasant apple flavour and each serving provides 5g of the recommended 25g (for women) and 30g (for men) of daily intake of fibre. Can be taken in water or added to your favourite shake or tea. Take 1-2 times daily.
Key Product Benefits
Promotes regularity and healthy bowel movement
Supports growth of friendly intestinal bacteria
5g of balanced soluble and insoluble fiber
Add to Formula 1 for a thicker, smoother shake
Ingredients Listing
Ingredients Listing
Sugarcane Fibre, Maize Dextrin, Soy Fibre, Inulin, Natural Apple Flavour, Citric Acid, Citrus Fibre, Sodium Carboxymethylcellulose, Maltodextrin, Cellulose, Sucralose, Silicone Dioxide, Caramel (Colour) and Beet Juice (Colour).
Product Usage
Enjoy mixed with water or fruit juice.