Herbal Aloe Drink Concentrate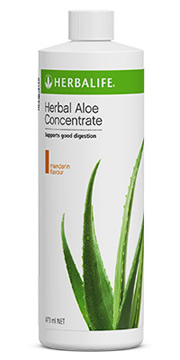 Supports healthy digestive function by soothing the stomach and alleviating occasional indigestion. Herbal Aloe Concentrate is made from the aloe plant which contains natural enzymes, vitamins, minerals, and amino acids that help support healthy digestion. The Concentrate contains 473 mls and makes 4 litres of herbal aloe drink.
Herbal Aloe Concentrate - Key Benefits
Relieves occasional indigestion
Improves nutrient absorption
Enhances intestinal health
Contains antioxidants
Herbal Aloe Concentrate - Product Usage
Mix 3 capfuls with 1 cup of water. Refrigerate product after opening.
Product Ingredients Listing


Aloe Vera


Can have positive effects on the body both internally and externally. Internally it is used to promote a healthy digestive system.

Chamomile


Has been included for it's gentle, soothing, calming qualities. A well-known and widely used ancient herb, sacred to the Anglo-Saxons. Due to its positive attributes and calming properties it is particularly popular with herbalists.

Natural Lemon or Mango Flavour


Provides a refreshing taste.
Additional Product Information
Herbalife has succeeded, through scientific development, to capture and stabilise the acclaimed organic nutrients found in the Aloe Vera plant. This refreshing beverage helps to soothe the digestive system and assist the natural self cleansing action of the body.
How much coffee and tea do you drink each day?


Too much and you are robbing your body of important nutrients. For a refreshing alternative, replace at least two cups a day with Herbal Aloe Concentrate and benefit from the Aloe plant's rich nutrients and soothing properties.



Are you drinking water regularly?


Experts recommend we should consume at least 2 litres of water every day for our bodily systems to function optimally. Dehydration is not often recognised as the problem behind many ailments, however, every cell in the body is dependent upon a rich fluid content. Herbal Aloe Concentrate is a positive and refreshing way to ensure you maintain an adequate level of water consumption.



Do you choose cans of drink in preference to plain water?


A fizzy drink can contain at least six teaspoons of sugar! Consider replacing canned or bottled drinks with Herbal Aloe Concentrate to help you minimise your intake of sugar.



Do you rush around, eating meals in a hurry or on-the-go?


This can cause the stomach distress, preventing foods from being properly digested or absorbed. As water is so essential to digestion, drink a glass of water half an hour before a meal to assist digestion.



Do you sometimes eat in the wrong frame of mind, e.g. stressed?


Stress releases hormones that inhibit natural digestive processes. As described there are certain things it is suggested we avoid for our body to function optimally. But, however rushed your day, including Herbal Aloe Concentrate may help to encourage a more positive outcome.