RoseGuard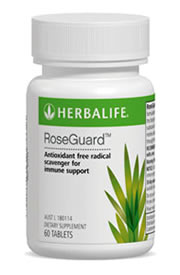 RoseGuard is an exclusive blend of herbs (rosemary, cloves and sage), cruciferous vegetables and tomato to support healthy liver and immune function.
Key Product Benefits
Supports your body's natural defense against environmental toxins.
Provides antioxidant support throughout the day.
Helps recycle the antioxidant activity of Vitamin E.
Ingredients Listing
Rosemary




Turmeric Extract




Astragalus Root



Product Usage
Take one tablet daily, preferably with a meal or after a shake.