Beauty Powder Drink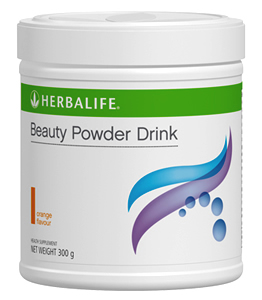 Also known as Collagen Body Beverage, this product from Herbalife is designed to improve the appearance and elasticity of the skin. Formulated in orange-flavoured powder, each serving of Herbalife Beauty Powder Drink provides 5,000mg hyrolyzed fish collagen to give you firmer and younger-looking skin. Collagen also helps keep your hair and nails strong. Besides collagen, Vitamin B2, B6 and C found in Herbalife Beauty Powder Drink help boost skin repair and reduce symptoms of fatigue.
What is Collagen?
Collagen forms 75 percent of our skin, and gives skin its smooth, youthful appearance. Healthy skin comes about largely due to having healthy collagen levels. Decreased collagen levels can result in undesirable consequences such as wrinkles and premature signs of ageing.
Key Products Benefits
Enhances skin moisture and smoothness
Prevents wrinkles and repairs fine lines
Makes skin fuller and more elastic
Promotes healthy blood circulation in the skin
Key Ingredients
5,000 mg

of collagen hydrolyzate

Coenzyme Q10
Vitamin C
Ginseng Essence
Wolfberry Essence
A variety of vitamins and minerals
Product Usage
Take once daily. Mix 2 scoops (10 g) with 120-240 ml of water or juice. For optimum nutritional benefit, drink as suggested on an empty stomach.
Note: This product is not intended for use by children, pregnant or lactating women. Individuals who are using anticoagulant medication (Warfarin) should consult with their physician before using this product.