Triple Berry Complex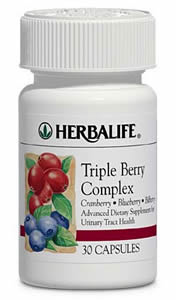 Concentrated cranberries, blueberries and bilberries provide an antioxidant boost and dietary support for urinary health. Women often need help maintaining urinary tract health. Research has shown that cranberries can provide support. Enjoy their antioixidant benefits with a powerhouse of other antioxidants in an easy, once-a-day tablet.
Key Product Benefits
Support urinary tract health
Super-powered antioxidant support
Harness the power of cranberries
Product Usage
Take one or two capsules a day. Combine with Herbalife's Herbal Aloe Drink for enhanced good health.